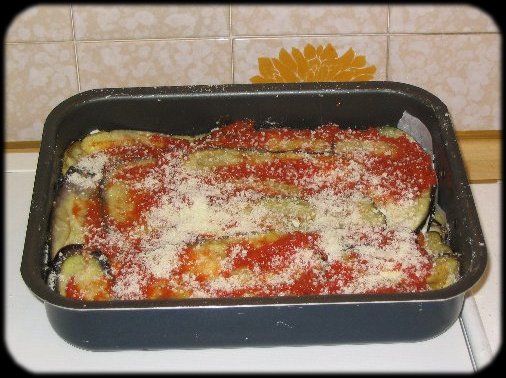 This is a super easy dish thats tastes divine! I sometimes make a bechamel sauce for the top but since I am trying to diet I have omitted that this time! You can also grill the eggplant to lessen the calories (why does fried stuff taste so good?) You can use your favourite seasonings as well, or a touch of fresh basil.
Ingredients
1 Kg egg plant(aubergine)
100 gr. grated parmisan cheese
200 gr. mozzarella- grated
Cut the eggplant lengthwise, salt slightly, place aluminum foil on top and a weight ( a cook book!)
Let stay for about an hour.
In the meantime, fry onions and garlic in olive oil. Add the tomatoes and herbs and let simmer for about 30 mins.
Pre heat the oven to 180C or 380F
Rinse the egg plant and fry gently untill almost cooked.
Layer the vegetables with mozzarella, sauce and grated cheese ending with a layer of mozzarella
YUMMY!!!